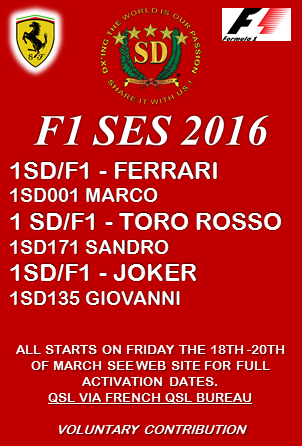 In Downloads section you will found the complete call-sign and the log-book!!
DRIVERS CALL SIGNS (10 points per contact)
26SD/F1-LH (LEWIS HAMILTON) CONFIRMED by 26SD117 Geoff
13SD/F1-NR (NICO ROSBERG)  CONFIRMED by 13SD108  Oliver
50SD/F1-SV (SEBASTIAN VETTEL)  CONFIRMED by 50SD333 Andrey
13SD/F1-NK (NICO HULKENBERG)  CONFIRMED by 13SD019 Joachim
163SD/F1-KR (KIMI RAIKKONEN) CONFIRMED  by 163SD003 Ian
108SD/F1-VB (VALLTERI BOTTAS)  CONFIRMED by 108SD014 Dave
3SD/F1-FM  (FELIPE MASSA  (CONFIRMED) by 3SD205 Rafael
3SD/F1-FN (FELIPE NASR) CONFIRMED  by 3SD505 Joao
43SD/F1-DR (DANIEL RICCIARDO (CONFIRMED) by 43SD028 Jordan
50SD/F1-DK (DANIIL KVYAY)  (CONFIRMED)  by 50SD001 Alex
10SD/F1-SP (SERGIO PEREZ)  CONFIRMED by 10SD017 Amando
10SD/F1-EG (ESTEBAN GULTIEREZ) CONFIRMED by 10SD001 Hector
30SD/F1-JP  (JOLLYON PALMER)  CONFIRMED  by 30SD051 VINCENT
19SD/F1-MV (MAX VERSTAPPEN) CONFIRMED  19SD115 Jody
30SD/F1-CS  (CARLOS SAINZ)  CONFIRMED by 30SD170 Javier
30SD/F1-FA (FERNANDO ALONSO CONFIRMED  by 30SD923 Tomas
9SD/F1-ME (MARCUS ERICSSON) by 9SD104 JOHN
14SD/F1-KM   (KEVIN MAGNUSSEN)  14SD176 Christophe
26SD/F1-JB (JENSON BUTTON)  CONFIRMED by 26SD117 Julian
14SD/F1-RG (ROMAN GROSJEAN) CONFIRMED  by 14SD160 Jean-Jaques
20SD/F1-PW   (PASCL WEHRLEIN) by 20SD326 Christer
91SD/F1-RH   (RIO HARYANTO)  by  91SD091 Bruno
MANUFATURE CALL SIGNS  (10 points per contact)
1SD/F1-FERRARI  CONFIRMED by 1SD001 Marco
1SD/F1-TORO ROSSO CONFIRMED by 1SD171 Sandro
26SD/F1-MERCEDES CONFIRMED by 26SD005 Andy
26SD/F1-WILLIAMS CONFIRMED by 26SD031 Chris
161SD/F1-RED BULL CONFIRMED by 161SD202 Peter
93SD/F1-FORCE INDIA  CONFIRMED by 93SD001 Mario & 002 Christino
14SD/F1-RENAULT   CONFIRMED by 14SD007 Pierrot
29SD/F1-SAUBER   CONFIRMED by 29SD001 Michael
34SD/F1-McLAREN  CONFIRMED  by 34SD666 Julio
30SD/F1-MANOR CONFIRMED by 30SD002 Miguel
2SD/F1-HASS  CONFIRMED by 2SD298 Don
F1 JOKERS  (5 points per contact)
1. 11SD/F1-J1  by 11SD001 Tito
2. 5SD/F1-J2    by 5SD110 Valentino
3. 26SD/F1-J3    JOKER -3  26SD112 Scott
4. 3SD/F1-J4    JOKER by 3SD001 Nilson
5. 302SD/F1-J5  JOKER 302SD108 & 109
6.41SD/F1-J6 Joker  41SD001 Brett
7.30SD/F1-J7 Joker by 30SD001 Sergio
8.16SD/F1-J8  Joker by 16SD121 Martine.
9. 163SD/F1-JOKER    by 163SD001 Richard
10. 1SD/F1-JOKER by  1SD135 Giovanni
Joker Call Signs can be used to Confirm any of the 11 Manufacture QSL Card.
You will have four opertunities to receive the Manufature QSL Card one for the car and two others for the Manufacture drivers, & Joker call signs,there will be 11 QSL Cards in the set  with  42 activations in all areas: North, Central & South America, Pacific, Europe, Asia.
Not all call signs will be active every F1 Weekend however will be active when possible when conditions allow from the start of the season March to the end in November so 9 months to work all 33 or get your 11 qsl cards confirmed.
Activation dates below:
Friday & Saturday Practice days,   Sunday main Race Day
WEEK 1 AUSTRALIA  18TH-20TH MARCH.
WEEK 2 BAHRAIN      1st  -3RD APRIL.
WEEK 3  CHINA       15 -17 APRIL.
WEEK 4  RUSSIA     29TH APRIL – 1ST MAY.
WEEK 5      SPAIN   13TH – 15TH MAY.
WEEK 6      MONACO    27TH – 29TH MAY.
WEEK 7   CANADA    10TH – 12TH JUNE.
WEEK 8   BAKU AZERBAIJAN 17TH – 19TH JUNE.
WEEK 9  AUSTRIA     1st - 3rd JULY.
WEEK 10      BRITISH   8TH – 10TH JULY.
WEEK 11  HUNGARY  22nd – 24TH JULY.
WEEK 12  GERMANY  29TH -31ST JULY.
WEEK 13  BELGIUM  26TH – 28TH AUGUST.
WEEK 14  ITALY   2nd – 4TH SEPTEMBER.
WEEK 15   SINGAPORE 16TH -18TH SEPTEMBER.
WEEK 16    MALAYSIA    31st sept– 2ND OCTOBER.
WEEK 17 JAPAN    7TH – 9TH OCTOBER.
WEEK 18   USA    21st – 23RD OCTOBER.
Week 19  MEXICO   28TH – 30TH OCTOBER.
WEEK 20  BRASIL    11TH – 13TH NOVEMBER.
WEEK 21     ABU DHABI   25TH – 27TH NOVEMBER .
If you have any questions please email: Questo indirizzo email è protetto dagli spambots. È necessario abilitare JavaScript per vederlo.
QSL Via French QSL Bureau (Voluntary contribution)
ALL Logs MUST be emailed to: Questo indirizzo email è protetto dagli spambots. È necessario abilitare JavaScript per vederlo. NO LATER than 11th December any logs received after this date will be void.
Points:
10 Points for Any Manufacture or Driver Call signs
5 Points for any Joker Call signs
Prizes:
SD SES Activators top 3 places
S.E.S.Chasers outright winner: President Lincoln 2 (10 mtr Radio) (TBC)
Prizes for top 3 placings.
SD F1 Certificates for top 10 placings for both Activators & Chasers.
ALL Winning logs will be spot checked.
LOGS:
All Chaser logs MUST receive a progressive number from all contacts, no progressive no contact.
Activator logs will be emailed to you, if you have an activation call sign and you have not received you log book, please let me know.
Chaser Log Books: Only Official Log Books will be accepted and are available to download free:
F1 CHASER lOG bOOK-XLS  from the Sugar Delat Web Site.
F1 Team:
163SD001 Richard
43SD028 Jordan
14SD007 Pierrot