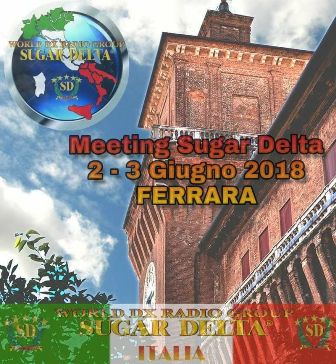 For Info
read more
I'd like to inform you that the meeting will be in Ferrara on 02-03 June.
You can reach us going to Bologna Guglielmo Marconi Airport and you can find the bus to Ferrara at 50m on the left at the exit of the airport ( Bologna - Ferrara).
You can check the bus on http://www.ferrarabusandfly.it/ and you can pay directly to the driver ( 15 euro).
You must get off the bus at the first stop and the Hotel "Il Duca D'Este (http://www.ilducadeste.it/)", clearly visible (300m).
You can book your room via: Questo indirizzo email è protetto dagli spambots. È necessario abilitare JavaScript per vederlo., as a participant to the Meetig Sugar Delta of 2- 3 June ( in the object of the email) you will have a quote you will be reserved a great discount.
The price of the lunch is € 28 per person, dinner premeeting yet to be defined!
The Meeting is organized by the Ferrara Team and for other info you can write to 1SD051 Gabri Questo indirizzo email è protetto dagli spambots. È necessario abilitare JavaScript per vederlo.
73's 1SD001 Marco